When we heard a distillery was opening in Atlantic City we couldn't be more excited or think of a more perfect place than Atlantic City with its prohibition history for a distillery to open up. Atlantic City is the perfect spot for a speak-easy where the drinks are good and it takes a little bit of looking to find the location and Little Water Distillery is the perfect fit in an ever evolving Atlantic City.
We visited on opening night because my husband couldn't wait a moment longer to check them out. The city was full of life as we drove in, flashy billboards, the outlets, casinos and restaurants. Much has been written about Atlantic City's rise and fall but those who live locally know the city has so much to offer.
We drove through the main drag past the outlets down Arctic Ave, Little Water is located off the beaten path in Atlantic City on Baltic and Delaware Ave with an entrance and parking on Lexington Ave. The neighborhood is better than expected considering it is a few blocks from the now shuttered Revel, Showboat and Taj Mahal. I was relieved that there was parking because on street parking was scarce.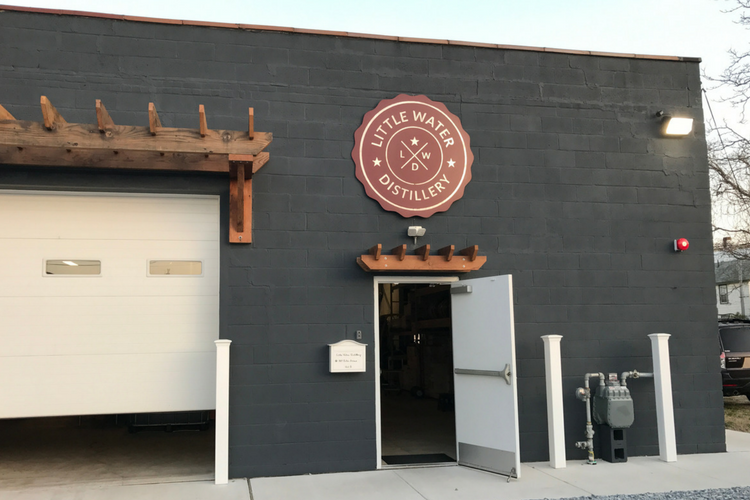 You enter an industrial style building which is clearly a working distillery. This isn't a fancy tasting room with a distillery behind glass windows, you are on the floor of a working distillery.
To your left you can see the still along with vats of molasses and rum and to your right are barrels aging their whiskey. The bar is located at the back of the distillery along a brick wall. The bar has 6 seats, 2 long high-top style tables that are standing room only and two small round tables that seat 4 and sit closer to the still than the bar. The bar showcases bottles from local / small distilleries, these are for show only as the distillery can only serve their own spirits. Above the bottles are pictures that are a throw back to the older days of Atlantic City; Frank Sinatra performing and one of the diving horses from the Steel Pier.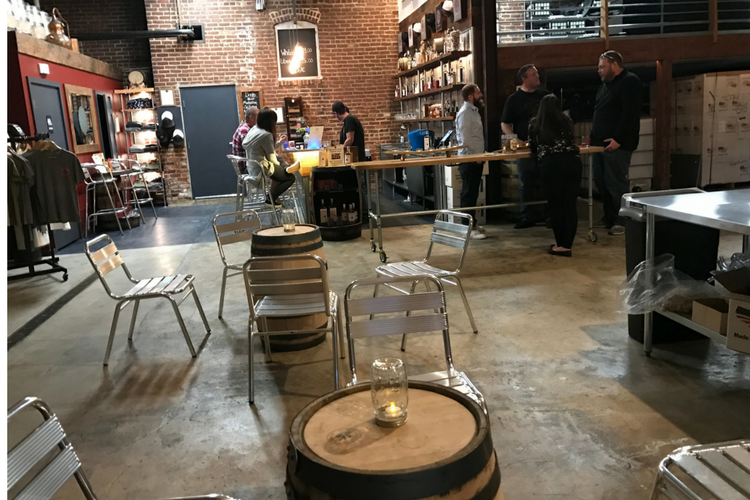 We visited on "Frankie Friday" the weekly Friday happy hour where Frankie the bartender whips up one of the 6 cocktails that Little Water offers.  Three of the cocktails feature their Whitecap Whiskey and three feature their Liberty Rum. The 3 rum cocktails were crafted by Frankie the Mixtress. We sampled the three rum drinks: Girls in Their Summer Clothes, She's The One and Saint in the City. My husband also had an American Mule. The She's the One was our favorite.
The owner took us on a quick tour letting us taste whiskey right from the barrel and sample the molasses used to make their rum. The molasses were heavenly. He explained the process of making spirits from start to finish. The whiskey and rum produced at Little Water is handcrafted, hand bottled and labeled. There is no bottling machinery, start to finish it is a hands on experience.
Right now Little Water Distillery is a small gem that you can't wait to tell your friends about but it won't be that way for long. Little Water has big plans including a cigar patio and a garden that Stockton will be helping with. They will be hosting charity events where a charity can get a portion of the proceeds by helping bottle rum or whiskey for a few hours. There is talk of eventually making a gin and a spiced rum.
Little Water Distillery, like much of Atlantic City is looking to the future, it can only get better from here.
Insider info on Little Water Distillery:
The handcrafted rum cocktails are all named for Bruce Springsteen songs.
If you look above the restrooms you can see the original still that the owners purchased for their father.
The hours are limited right now because much of their time is spent distilling spirits and bottling.
You can buy a bottle of rum or whiskey at the distillery or at local liquor stores.
Once the garden is established what they grow will be used in the distillery to make spirits and cocktails.
Want to check out the distillery before you go, check out this 360 view.
The Details on Little Water Distillery:
Little Water Distillery is located at 807 Baltic Ave Unit B (entrance and parking are located on Lexington).
Tours and Tastings:
Friday 4 pm to 8 pm
Saturday 1 pm to 5 pm
Visit Little Water Distillery on the web, Facebook & Instagram.